Books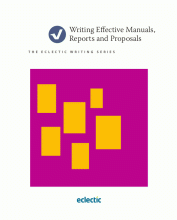 Shipping and handling included.
If we can't ship the book to you at a reasonable price, we'll contact you with the details and the option to cancel your order at no charge.
About
Documents like manuals, reports and proposals are used widely in the workplace. They help establish best practices, provide instruction for better decision-making and ensure compliance.
Writing Effective Manuals, Reports and Proposals walks you step by step through the process of creating these essential documents.
Discover a simple process to write with a reader focus.
Learn to structure your documents to increase readability.
Uncover how to write each document type more effectively.
Use this book to help you craft better manuals, reports and proposals.
Year Published
2015