eLearning Design
Eclectic Communications has created synchronous and asynchronous eLearning using a variety of technologies including Adobe Captivate, Articulate Storyline, Articulate Rise, D2L, TrainCaster and Drupal. We have managed the development and design over of 50 self-paced online courses. We have also designed three blended format certification programs and four online courses for post-secondary institutions.
We provide ongoing access to the courses we develop for maintenance, editing and updating once the course conversion has been completed. We also correct any course navigation and functionality issues.
Our customized eLearning programs go beyond giving learners what they need to know. Instead, the programs focus on what learners need to do with that information. Our eLearning programs offer realistic and challenging activities that immediately show learners how to apply their new knowledge to their jobs.
We create eLearning programs that improve business performance. Contact us if you want to
change your learners' behaviours
challenge your learners
create eLearning programs that lead to measurable business improvements
Instructional Design
With all of our instructional design projects, we assess the needs by identifying the skills and knowledge required and establishing learning objectives, outcomes and evaluation.
We have built programs large and small in both size and scope including workplace certification programs, post-secondary continuing education courses and multi-day workshops. Our programs have been designed using offline, online and blended learning delivery models to support the learners in their efforts to achieve the learning objectives.
All of our programs are designed to be engaging, interesting, informative and effective. We design to create interactive experiences so that learners are active participants of their own learning.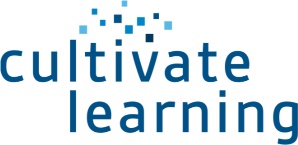 Our Cultivate Learning web course platform provides a secure and user-friendly experience for learners and publishers.
Cultivate Learning web courses:
are HTML-based with no need for additional software
can be sold online with a direct link to the organization's website
can be customized using the organization's branding
are automated providing minimal effort to maintain
use up-to-date technology and are secure
can be designed using a range of interactivity tools
There are three access options available:

Private
Hosted at your domain
or privately with us.
Group registration code options available
Option to use existing company ID for access, or,
Secure participant login

Public
Courses are offered publicly through Cultivate Learning.
Public access to course(s)
Individual registration fees
Group registration code options available
Stripe e-commerce included
Secure participant login

+

Public & Private
Courses are offered publicly through a client website and on Cultivate Learning.
Public access to course(s)
Individual registration fees
Group registration code options available
Stripe e-commerce included
Secure participant login