Books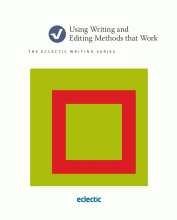 Shipping and handling included.
If we can't ship the book to you at a reasonable price, we'll contact you with the details and the option to cancel your order at no charge.
About
Are you tasked with communicating through the written word in your workplace? If so, your co-workers, customers and managers rely on you to get your point across clearly and avoid costly errors.
In Using Writing and Editing Methods that Work, you'll master the skills to effectively communicate your ideas through emails, letters and other documentation.
Learn an effective writing process.
Discover how to create clear emails and letters.
Strengthen your documents with effective editing techniques.
Accelerate understanding and decision-making through your writing and editing, and position yourself as a star performer on the team because of your ability to communicate clearly.
Year Published
2015